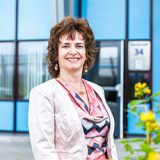 Senior financial administrator
As senior financial administrator Chantal is responsible for all financial and human resource related affairs. She evaluates working processes in order to achieve an even better result. Colleagues would describe her as social and proactive, someone who enjoys a challenge and embraces her responsibilities.
During her free time she gets a lot of satisfaction out of sport lessons which she provides at gyms in her local environment. Next to this she hosts sport events with the purpose of providing the less fortunate children in the Netherlands.
Education:  Bachelor of Modern Business Administration