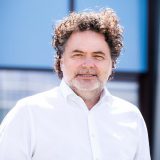 Director
René has extensive working experience in the field of facility management within the profit and non-profit sector. His expertise lies within change management/ restructuring of organizations with regards to facility management, reviewing facility services and/or contracts as well as purchasing these. In 2000, René started Facility Portal Nederland together with Ruud Herkströter with their concept Fm Portal®. This purchase platform unites supply and demand of facility products and services to offer total facility management to both businesses and non-profit organizations.
As director of the organization René is responsible for the general management of Facility Portal and its commercial activities. He is proud of this healthy and growing organization with its well educated employees, a close team and the right mix of young and more experienced professionals.
René values a good working environment which is why there is a bar at the office where the team can often enjoy a cup of coffee or a Friday afternoon drink. René always has music on in the background as he cannot stand silence. During his free time he enjoys dinner parties with family and friends which he compensates with a regular fitness session.
Education: Bachelor of Facility Management and Certified Facility Manager (CFM)