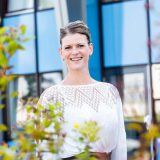 Commercial Director FPM
Chantal is an expert in the field of (sustainable) waste collection and processing and is the driving force behind the Fm Portal Milieu label.
With her knowledge, expertise and years of experience, she takes small and large organizations to a higher level when it comes to waste management.
Organizations can contact her for anything on the subject of waste. Whether it concerns advice, operational or administrative work. Everything is possible!
According to her, the core of our mission is to secure natural resources for the future together so that not only we but the generations after us can enjoy this beautiful world!
In her free time she trains several horses with the aim of achieving the highest achievable level.
Education: VIHB and VCA-VOL.