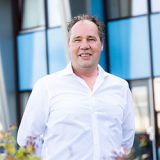 Co-Director
Ruud Herkströter is the business partner of René Koenen and co-director of Facility Portal Nederland. With his realistic and commercial perspective Ruud has become the specialist in safety and thus founded the label FM Portal® Veiligheid. Additionally, he primarily concerns himself with internal affairs such as the financial administration and coaching of employees.
Ruud tries to establish a culture in which staff members challenge each other and help each other grow. Graduates and young professionals get the chance to exchange ideas with more experienced team members in order to learn from each other. A good atmosphere is crucial in this and Ruud finds it extremely important that every member of the team enjoys going to work.
The fact that Facility Portal provides custom made facility solutions and a wide range of facility services is considered to be the success factor of this growing organization.
In his free time Ruud enjoys squash and indoor football as well as embracing his creative side by crafting.